On October 25, the Shandong High People's Court rejected the appeal of Bo Xilai, the former Party Secretary of Chongqing who on September 22 was convicted of bribe-taking, embezzlement, and abuse of power and sentenced to life in prison.
At the end of Bo's trial, many observers noted that his sentence was much heavier than the sentences given to the only two other leaders of his level of seniority removed from office for corruption since Jiang Zemin took leadership of China in 1989. According to eyewitness accounts in the press, Bo himself called the court's decision not fair and not based on facts.
It is well known that China lacks an independent judiciary and that prosecutions for corruption often are the weapons China's high officials use to do political battle. But Bo's sentencing prompted me to ask whether punishment of high-ranking officials removed from office for corruption was arbitrary or whether we could discern any patterns and, if we could, what they might tell us. I also wondered how Bo's sentence compared to that of other senior officials convicted of similar crimes.
My colleagues and I gathered reports from the official media, C.V.s on official Chinese government websites, and court records. We compiled a list of high-ranking officials who were dismissed or forcibly removed from office between 1989 and 2013. It was these cases we surveyed to try to answer our questions.
Among our conclusions, which we explain in greater detail below, are:
Given the patterns of sentencing of other officials convicted of taking similarly large sums of money through bribes and graft, Bo Xilai's sentence was comparatively light.
Hu Jintao removed more officials from office for corruption—both in absolute numbers and on a yearly basis—than did his predecessor, Jiang Zemin. The officials who fell during Hu's era were subject to stiffer penalties than their Jiang-era counterparts.
Our research does not cover Xi Jinping's much-touted anti-corruption campaign. In the short ten months since Xi assumed the presidency, the campaign already has led to the removal from office and ongoing investigation of nine senior officials.
—Ouyang Bin
* * *
120 out of the 141 officials on our list were removed from office in connection with embezzlement, bribery, or a combination of the two.
Classification of Crimes Committed by Officials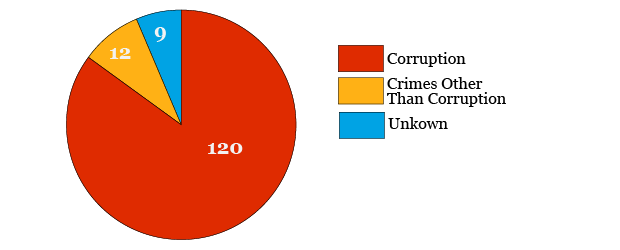 Administrative Rank
Chinese officialdom has elaborate hierarchies and its laws designate rankings for different types of civil servants. The top, or State Level, includes the President, the Premier, members of the Standing Committee of the Politburo, and a handful of other top leaders. (Currently, there are seven people at this level.) The Deputy State Level includes Vice Premiers, Politburo Members, and Vice Chairmen of the Standing Committee of the National People's Congress, as well as other positions, in all currently totalling about sixty-three people. The Provincial and Ministerial Level, whose ranks number in the hundreds, includes the heads of Ministries, Provinces, and Departments of the CCP, as well as the CEOs and Party Secretaries of major state-owned enterprises. Beneath them, the Deputy Provincial and Ministerial Level includes thousands of deputy ministers and deputy provincial leaders, among others.
Of the 120 corrupt officials, none were at the State Level. Four were at the Deputy State Level, ten at the Provincial and Ministerial Level, and 106 at the Deputy Provincial and Ministerial Level.
Number of Officials at Each Administrative Rank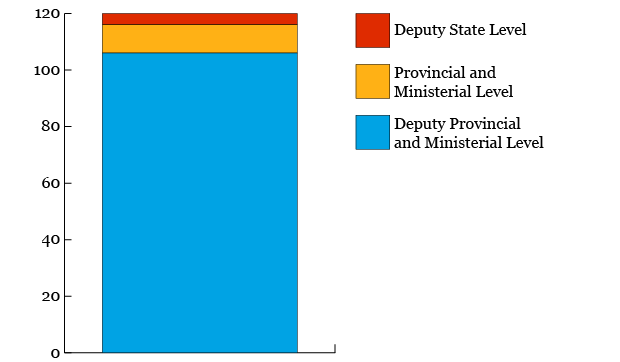 Sentencing
Of the officials charged with corruption, one (Gao Yan, former Party Secretary and CEO of the State Grid Corporation, at the Provincial and Ministerial Level) fled overseas in 2002 and has not been apprehended. Three committed suicide while under investigation, but were expelled from the Party posthumously. Four were sentenced to death. Twenty-eight received the death penalty with reprieve, eighteen were sentenced to life imprisonment, forty were given fixed-term prison sentences, fifteen were disciplined within the Party but were not tried in China's courts, and eleven are still under investigation.
Punishments or Outcomes for Corrupt Officials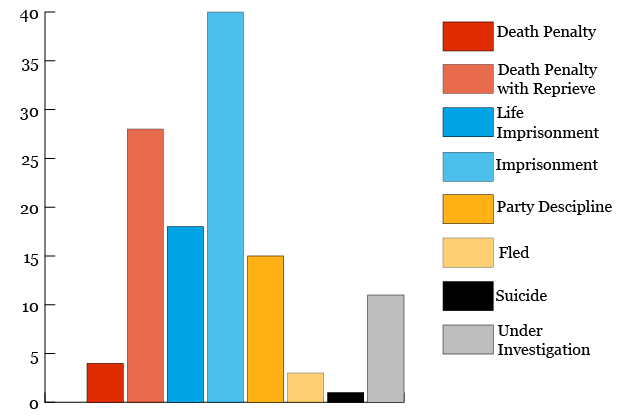 To what extent does Bo Xilai's life sentence accord with these sentencing patterns?
Since the Tiananmen Crackdown on June 4, 1989, only three members of the Politburo have been removed from office. Chen Xitong, Party Secretary of Beijing, who was convicted of embezzling 556,000 RMB (U.S.$67,000)1 and of dereliction of duty and sentenced to sixteen years in prison in 1998; Chen Liangyu, Party Secretary of Shanghai, who was convicted of embezzling 2.39 million RMB (U.S.$335,000) and of abuse of power and sentenced to eighteen years in 2008; and Bo Xilai, who was convicted of embezzling 5 million RMB (U.S.$815,000) and taking bribes worth 20.44 million RMB (U.S.$3.238 million) and sentenced to life imprisonment plus an additional seven years for a conviction of abuse of power.
Amount of Money Politburo Members Were Convicted of Taking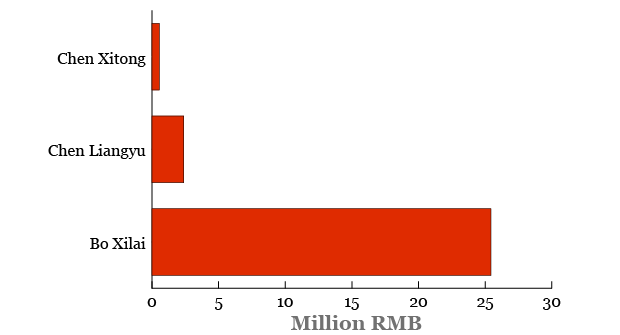 The total amount the Jinan Intermediate People's Court convicted Bo of taking through graft and bribes—25.44 million RMB or U.S.$4.03 million—even taking inflation and the relative size of the Chinese economy into account—was much greater than that of his Politburo counterparts. Bo's sentence, perhaps in correspondence with the monetary dimension of his corruption, was the harshest. Since the death of Mao in 1976, Bo has been the only member of the Politburo to be sentenced to life in prison for charges of corruption.
How do Bo's crimes compare to the other thirteen officials in our survey who were given life sentences for corruption over the past ten years (2003-2012)? They were convicted of taking an average of 7.12 million RMB (U.S.$1.083 million) through embezzlement, bribes, or a combination of the two. Bo's combined ill-gotten gains total 25.44 million RMB (U.S.$4.03 million)—more than three times that much. In the chart below, each one of these thirteen officials is represented with a black square. Bo's is the red square.
Bo Xilai's Loot Vs. Loot of Officials Sentenced to Life In Prison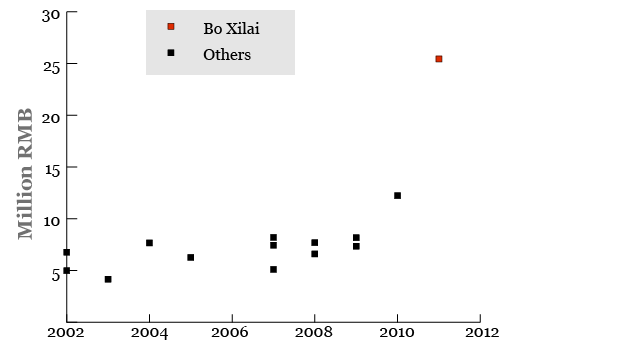 So, where does Bo fit in? Within the same ten-year period, twenty-four officials were sentenced to the death penalty with a two-year reprieve. They illegally took an average of 21.74 million RMB (U.S.$2.859 million). In the figure below, each square is one of these officials. Again, Bo's square is red. The amount of money he was convicted of taking puts him squarely in the range of convictions that resulted in a sentence of the death penalty with reprieve. None of these officials was executed, but China's Criminal Code requires that those sentenced to the death penalty with reprieve must serve a minimum of twenty years, whereas those sentenced to life imprisonment must only serve a minimum of thirteen years.
Bo Xilai's Loot Vs. Loot of Officials Sentenced to Death Penalty With Reprieve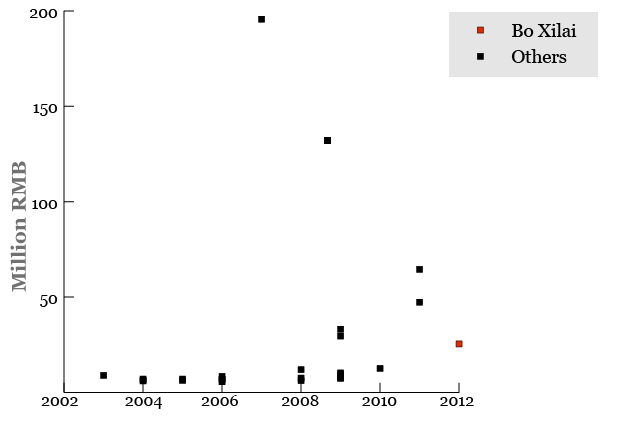 Removal of Corrupt High Officials Under Jiang Zemin and Hu Jintao
The figure below shows the number of officials in our survey who were removed from office each year between 1989 when Jiang Zemin became China's top leader and 2012 when Hu Jintao finished his tenure. Hu Jintao assumed office in 2002.
Number of Purges Under Jiang Zemin and Hu Jintao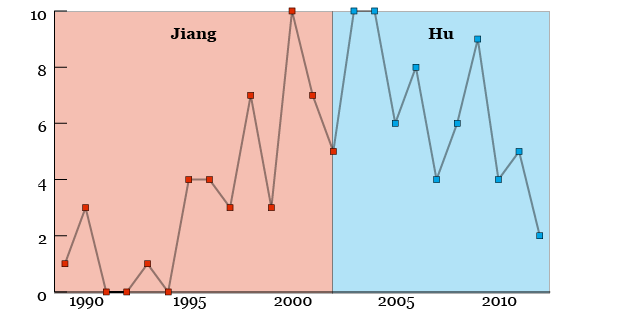 During Jiang Zemin's administration, forty-eight officials were removed from office on charges of corruption. Under Hu, sixty-three officials were dismissed for corruption. Jiang led the country for fourteen years and Hu for ten. Under Jiang, 3.43 officials per year lost their positions due to corruption, as compared with 6.3 per year under Hu's leadership.
Total Purges (left) / Purges Per Year (right)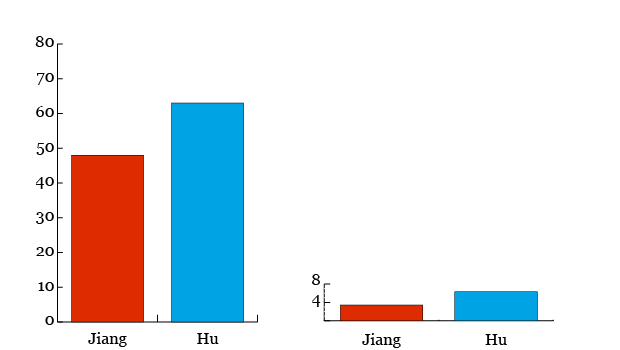 To further compare the Jiang and Hu administrations, we sorted the punishments into three categories: High (which includes death penalty, death penalty with reprieve, and life imprisonment), Medium (fixed-term Imprisonment), and Light (Party discipline, which includes reprimand, loss of official position, expulsion from the Communist party, etc., all without the participation of China's courts.)
Hu's Are Heavier: Severity of Sentences Under Hu and Jiang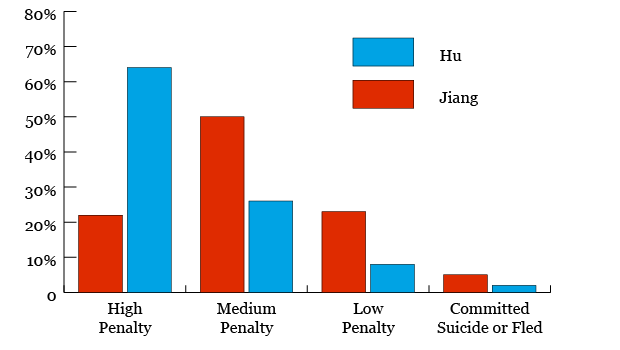 Of the officials in our survey, those prosecuted under the Hu administration received more severe punishment than those removed from office under Jiang's administration. Sixty-four percent of the corrupt officials removed from office during Hu's administration received punishments in the High category, versus twenty-two percent under Jiang. Twenty-six percent of officials received Medium sentences under Hu and fifty percent under Jiang. Only eight percent received Light sentences under Hu, versus twenty-three percent during Jiang's era.
How does the sum of money an official has been convicted of taking illegally relate to the sentence?
Article 282 of China's Criminal Code stipulates that the penalty for embezzlement or bribery involving more than 100,000 RMB (U.S.$12,063) is either a fixed-term sentence of no less than ten years or a life sentence, and may also include confiscation of property. The law notes that if "the circumstances are especially serious, [the offender] shall be sentenced to death and also to confiscation of property."
Nearly all of the corrupt officials in our survey plundered sums far greater than 100,000 RMB, and the law allows considerable leeway in determining sentences. Not that judges themselves necessarily have the discretion to make those judgements. The Communist Party exercises extensive control over charges, convictions, and sentences, particularly in politically sensitive cases like those covered in our survey.
But given this important caveat, what role does the amount of money an official is convicted of taking play in determining his or her punishment? Given the opacity of China's criminal courts and the extent of the Party's involvement in them, it is difficult to say whether the amount of money a given official was convicted of taking illegally was the actual amount he or she took, or an amount fabricated by his or her political enemies. Nevertheless, under both Jiang Zemin and Hu Jintao, those convicted of taking larger amounts of money received correspondingly more severe sentences.
During Jiang's administration (from 1989 to 2002), harsher punishments correspond to greater sums taken. For death penalty with reprieve, the average amount in question was 12.55 million RMB (U.S.$1.506 million). For life imprisonment, the mean was 1.79 million RMB (U.S.$214,778). And for fixed-term imprisonment, it was 649,400 RMB (U.S.$77,920).
Under Hu Jintao (from 2002 to 2012), for death penalty with reprieve the average amount was also the highest, 21.737 million RMB (U.S.$2.859 million), life imprisonment was 8.432 million RMB (U.S.$1.109 million), and fixed-term imprisonment was 2.507 million RMB (U.S.$329,695).
Average Amounts Officials Were Convicted of Taking and Severity of Punishment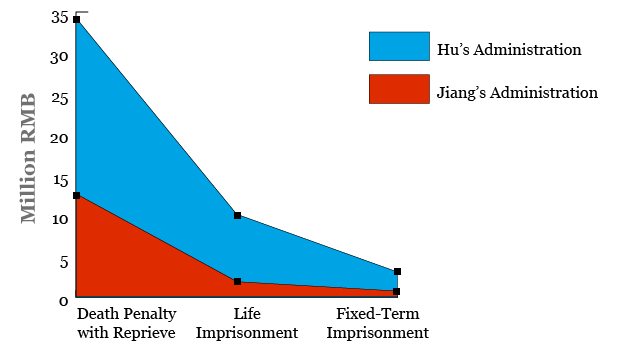 ---
All RMB values convert to U.S. dollar amounts at the exchange rate of the corresponding year. For all cross-year average values, we use the median year exchange rate.↩