When I first heard that The Eternal Wonder, a new novel by Pearl Buck, was scheduled for publication by Open Road Media on October 22 of this year, I assumed the announcement was either a mistake or a joke.
Buck, of course, is the author of The Good Earth, the tale of a Chinese farmer named Wang Lung that was the bestselling novel of 1931 and 1932. It won the 1932 Pulitzer Prize, was made into a Broadway play and a Hollywood film, and was cited in the decision to award Buck the 1938 Nobel Prize in Literature. I am one of the millions of readers who first became interested in China through Buck's storytelling and I agree with the historian James Thomson, who called Buck "the most influential Westerner to write about China since thirteenth-century Marco Polo." I had long known that Buck was prolific—she wrote forty-three novels, twenty-eight non-fiction works, thirty-seven children's books, 242 short stories, eighteen film and TV scripts, 580 articles, and several plays. But, since she had been dead since 1973, how could there be a "new" novel?
Keystone/Getty Images
I was not alone in my perplexity. Indeed, nobody in Buck's circle of family and friends was aware that she had left behind a completed novel, penned in Vermont in the final years of her life. The Eternal Wonder manuscript only came to light when an auction hunter purchased the contents of a Fort Worth, Texas self-storage unit on which the rent was unpaid and found among its contents two copies of the manuscript, one in Buck's handwriting and one typed. Buck's son and literary executor, Edgar Walsh, acquired the manuscripts from the auction hunter on behalf of the family. He received them by mail on January 4, 2013 and, as he writes in the novel's foreword, had "no doubt" they were genuine.
To understand how the last novel of one of the twentieth-century's best known writers ended up in a Texas storage unit, undiscovered for forty years, it helps to go back to the very first book Buck ever wrote, a loving tribute to her missionary mother Carie Sydenstricker, called The Exile. In it, Buck recounts how Carie (as she calls her) had moved to rural China in 1880 with her deeply pious (and misogynistic) husband Andrew (also known as Absalom) and suffered through countless calamities, among them the deaths of three of her first four children; the 1900 Boxer Rebellion, during which many foreigners were killed and the Buck household was invaded by angry men, who Carie won over with courtesy and tea; and the 1911 Xinghai Revolution, during which the wives of Manchu officials, "beautifully dressed in long silk gowns, their hair dressed high and their feet unbound" hid in the bamboo groves outside the Sydenstricker home, rejected Carie's futile offers of help, and were slaughtered while Carie "tried not to hear the sounds." Along the way, Carie became bitter—she mourned the "pleasures" she'd missed and regretted not living her life "for America"—and apparently lost faith. Buck describes a scene as her mother lay dying in the family's simple home on the outskirts of Zhenjiang, Jiangsu province, tended by a British nurse—"as unmoral a creature as ever lived"—who regaled Carie with tales of her own pleasure-filled youth.
Then, with one of her sudden changes [Carie] said, "You were speaking of dancing. Now do you know, I have always wanted to see a fox trot; I've read about them. Could you do one for me?"

This was the scene we came upon then, to the tune of a ragged bit of jazz on the Victrola. Here was Carie propped up on her pillows, the image of death except for her eyes, which all dimmed as they were in sight, somehow maintained yet their old fire and flash, watching with vivid delight the white, whirling figure of the nurse. At the end of the dance when the nurse dropped breathless into a chair, Carie remarked with the air of a connoisseur, "Well, that's a pretty thing—so graceful and light. I should not be surprised if Andrew is all wrong about God. I believe one ought to choose the happy, bright things of life, like dancing and laughter and beauty. I think if I had it to do over again I would choose those instead of thinking them sinful. Who knows? God might like them."
When it came to her own life, Buck did not repeat her mother's mistakes. Although she married a missionary as driven as her father—his passion was agricultural work, rather than Biblical translation and preaching—she divorced him after the success of The Good Earth, moved to America, and wed her publisher, Richard Walsh. They had an apparently happy and productive marriage, filled with adopted children and countless new books. But when Walsh grew ill, Buck found other companionship and was in Japan working on a film with a young man named Tad Danielewski when Walsh died. Toward the end of her life, she took up with Theodore "Ted" Harris, who was forty years her junior and an Arthur Murray dance instructor. Harris, at least for a time, seems to have brought to Buck's final years the "dancing and laughter" her mother missed, but her children viewed him as an interloping gold-digger and family relations grew tense. "She had become involved with individuals who targeted her fortune," Edgar Walsh writes in the preface to The Eternal Wonder, "estranging her from her family, friends, staff, and publishers." Buck died of lung cancer in Danby, Vermont at age eighty, tended by Harris and his friends rather than her family, who did not have access to her belongings. The Eternal Wonder manuscripts disappeared.
Upon hearing this story, which itself sounds like a novel, I grew excited. I've only read about a dozen of Buck's books, but have long been inspired by her life and work. A novel that came, as it were, from beyond the grave, was one I wanted to read. Alas, I regret to say that the book itself makes less compelling reading than the tale of its discovery—or of its author's fabled life.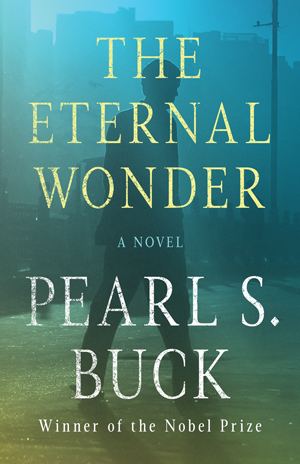 Cover of The Eternal Wonder, a recently discovered novel written by Pearl S. Buck at the end of her life in 1973.
The Eternal Wonder tells the coming-of-age story of Rann Colfax, beginning while he is in utero.
The warm fluid that enfolded him could rock him to and fro, could even toss him about, so that instinctively he spread his arms wide, his hands flailing, his legs spreading in the sprinting fashion of a frog. Not that he knew anything about frogs—it was too soon for that.
It wouldn't be long, however, before Rann did know about frogs—and virtually everything else—since he is quickly recognized as an unparalleled genius. The struggle of his young life is thus to find a suitable vehicle for employing his phenomenal intellectual gifts.
His problem was the eternal question: What should he be? Inventor, scientist, artist—the energy he felt surging through him, an energy far more than physical and yet pervading the restlessness of his body, was a burden to him until he could find the path for its release.
Rann ends up in college around age twelve, and at sixteen his grandfather gives him carte blanche to travel the world. He sets out for China but ends up in England, where he is introduced to the pleasures of the flesh by a beautiful English widow (twice his age) who beds him in her medieval castle. This seduction leads him to write (bad) poetry about his male organ and to realize that he is as good at sex as he is at everything else. Eventually, he decamps for Paris, where he meets Stephanie Kung, a beautiful half-Chinese, half-American girl closer to him in age and intellect who invites him to stay at her Chinese father's antique-filled chateau. True love seems possible, but Rann knows he must fulfill his potential so he returns to the U.S., enlists, and goes to fight in Korea, where he writes a novel about a Korean everyman that becomes a global bestseller and makes him an instant celebrity. The ending (which I will not reveal) comes as a genuine shock.
While the plot of The Eternal Wonder will strike most readers as implausible, it does echo Buck's actual experience. Buck swore she remembered being born and even wrote a poem about it:
I remember when I was born –
I do remember!
Through eternity I slept,
By its quiet waters swept,
In its silent safety kept…
And, of course, as a missionary wife in Nanjing, she hammered off (in three months) a novel about Chinese peasants that became an instant bestseller and made her a global celebrity. Less forgivable than the plot, perhaps, is that Rann—whose genius is perceived by all—never says anything remotely intelligent and comes across as a narcissist and a cipher who annoys rather than inspires. As Edgar Walsh acknowledges in the foreword, The Eternal Wonder is an "imperfect work."
In truth, the same can be said for many of Buck's works. The writer John Hersey (also the child of American missionaries in China) reportedly said that Buck had written "probably 70 too many" books. But The Eternal Wonder isn't just the seventy-first "too many" Pearl Buck book; it is the last (or so we assume). And so, despite its considerable flaws, I am glad I read it simply because I got to hear Buck's passionate voice again.
Like most of her work, the novel draws attention to causes about which Buck cared deeply. These were many—Buck became a social and political activist after she settled in the United States. She founded an adoption agency for biracial children called Welcome House (The Eternal Wonder includes a discomfiting exploration of the biracial experience); fought for African-American rights, even serving for twenty years as a trustee of historically-black Howard University; and supported feminist causes like the Equal Rights Amendment and birth control (the novel includes frank discussions of sexuality, including homosexuality, and birth control, said to be used by "the more intelligent and civilized members of human society").
Buck's major cause was China, the country in which she spent more than half her life and about which she wrote her best books. During the same period in which she presumably penned this final novel, she was drawing on all her connections—including U.S. President Richard Nixon—in an effort to return there. She failed. The letter the Chinese government sent denying her visa request accused her of "distortion, smear, and vilification towards the people of new China," causing her great anguish. She would not make it to China again and she doesn't let her protagonist, Rann, get there either. But The Eternal Wonder's most sympathetic characters are either Chinese, half-Chinese, or admirers of China. These include Rann's grandfather, who abandoned his own family to spend seven years in China and tells his grandson that he had gone "thinking I had so much to teach the Chinese. Instead, they taught me." He also assures Rann that China is "the oldest and most civilized country in the world" and lives a rather Chinese lifestyle in New York, waited upon by his faithful manservant Sung (who introduces Rann to the joy of soy sauce) and visited by ghosts. Stephanie's Chinese father is a cultured, wealthy, and wise gentleman (who, touchingly, shares the surname of the Confucian scholar who tutored Buck in her youth) and looks set to become a key figure in the fatherless Rann's life.
Even more significantly, The Eternal Wonder gives readers a sense of what preoccupied Buck in her final days. As Walsh writes, "for her readers past and present this work presents a unique opportunity to really know her and to understand her feelings and beliefs." And what The Eternal Wonder makes clear is that if Buck had a passion greater than China, it was life itself: an unwavering determination to live it to the absolute fullest and to avoid the deathbed regrets of her beloved mother. And life, for Buck, was about curiosity, compassion, understanding other cultures, and "wonder," a conclusion Rann himself reaches at the end of the novel: "Perhaps that is the whole point of it all—the eternal wonder."
If you've never read Pearl Buck, start with The Good Earth, The Exile, or Fighting Angel (about her father). But if you have—and you miss her, as I do—read The Eternal Wonder.